In a speech to the nation in 1992 Queen Elizabeth II described that year as her annus horribilis. After all, three royal marriages had collapsed, the Royal Family was riding low in the opinion polls over their tax-free status and the fire at Windsor Castle had destroyed 100 rooms.
In Part I of this duology our contributors Paul and Rita Whitelock looked back on the first part of 2021 as their own annus horribilis.  In Part II they describe how the year metamorphosed into their annus mirabilis.
Part II – Annus Mirabilis
Monday 26 April – Rita flies into Málaga. I collect her and her wheelchair and we go for breakfast to a beach near the airport. It is glorious. Rita is still frail and has lost a lot of weight, but she is glad to be home at last. She has been away for two and a half months!
Breakfast on the beach in Torremolinos
For the first few weeks we take it easy while Rita gradually begins to build up her strength, through acupuncture by Dra. Luz Calderón, massage by professional masseuse Pippa Brooks and private exercises shown to her by physiotherapist niece Dana Ofer.
Wednesday 28 April – We reluctantly decide to let our gorgeous German pointer Berti go. He is too much for us to handle. José our builder and friend has offered to take him, so we'll still get to see him on a regular basis.
Monday 6 May – I am headhunted by an estate agency, Andalucía Country Houses, to work with them by finding houses for sale in the Montejaque area. I also help them to find premises to open a "shop window" in the village. We soon have a healthy portfolio of properties.
Monday 27 May – Rita and I go to Frigiliana for five days for a break and to celebrate my 71st birthday.
Friday 28 May – I lose Jorge, my main builder. But work progresses on Casa Real with José "El Suave", with me as his peón. Other occasional helpers include Stewart "El Alto", José's daughters Miriam, "La Constructora" and Leti, "La controladora" and, later on, my trusty Rita, "The Meter Maid".
Friday 4 June – Live theatre starts up again. We see the musical "Cabaret" in Ronda.
Thursday 17 June – Our dog Berti is run over and killed. Today is not a good day.
Monday 28 June – The engine compartment of Rita's car catches fire and explodes. Nobody is hurt, but Rita's beloved Peugeot 206 CC is a write-off. Another bad day.
Friday 2 July – Our first ever booking at our villa. A French family stays for two weeks.
Tuesday 6 July – Rita's sister Birgid visits for three weeks. We stay in Montejaque, where Rita has installed a hot tub/Jacuzzi on the downstairs patio of her house there.
Monday 26 July – Our second booking – another French family, of 6 people, stay for a week.
Monday 2 August –  Booking number 3 – French again. This time 7 people.
Wednesday 11 August – This booking is by English people who normally live in Benidorm.
Monday 23 August – Our final booking is a Spanish mother and son until the end of the month.
Tuesday 1 September – Dana, Rita's niece, arrives for a 10-day holiday with us, as a thankyou for all she has done for Rita. Dana has visited us here several times in the past, but we still find fun things to do.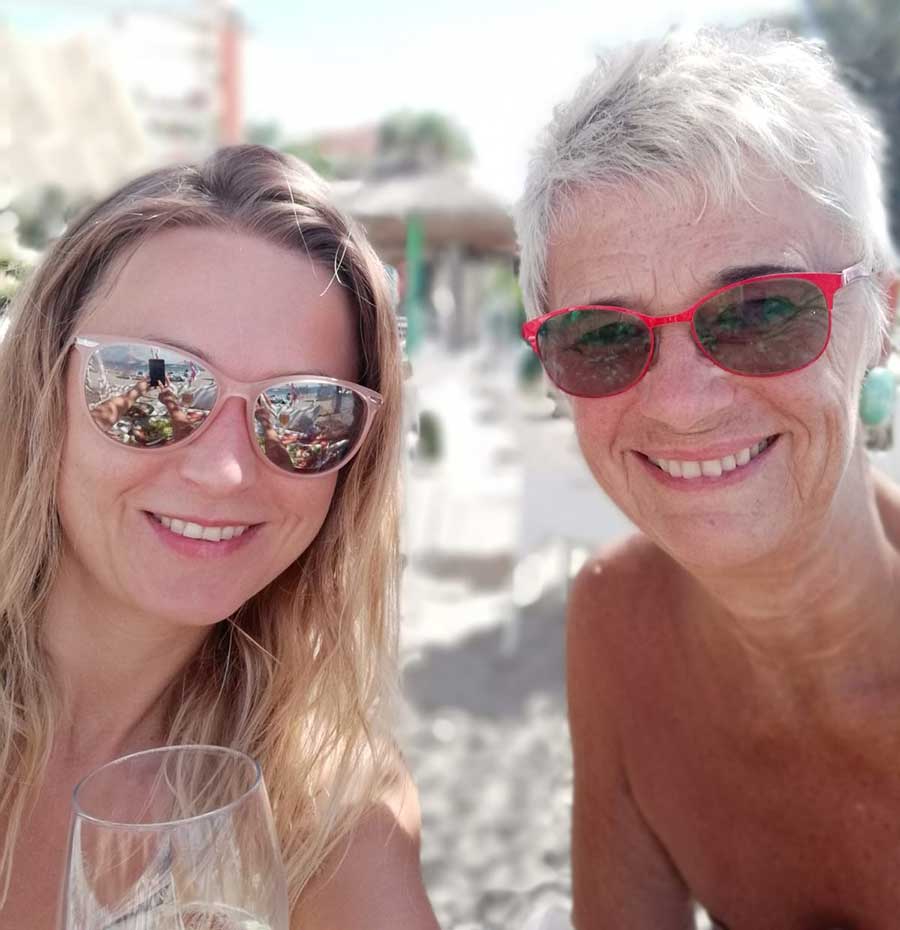 Dana and Rita at the beach in Manilva
Sunday 19 September – Our first-ever guests at Casa Real. We just manage to get the house ready in time for their 10-day stay. Regular visitors, Hovis and Jacqui Brown, give us very positive feedback about this "reformed" casa de pueblo.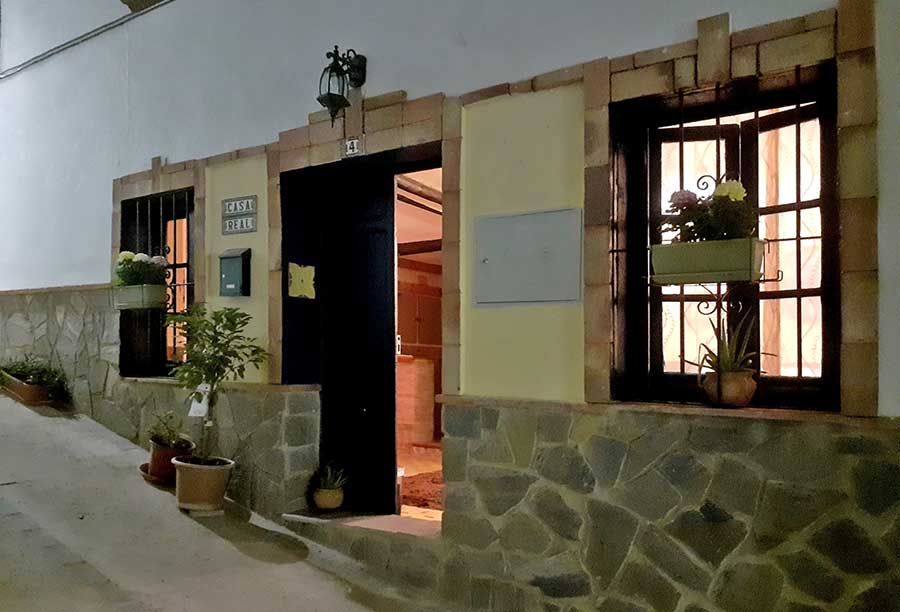 Casa Real, Montejaque
Whilst Rita has made a full physical recovery from her Covid-19 ordeal, I am struggling with the effects of long-Covid; namely shortness of breath, impaired balance and lack of energy.
Friday 1 October – I am diagnosed as a diabetic. This means a major change of lifestyle: regular exercise, new diet, no alcohol and medication. It's a bit of a shock!
We begin a hectic period of well-deserved relaxation and travel.
Sunday 3 October – We go on a five-night Parador tour to Extremadura, staying in ancient monuments such as old castles and monasteries. Extremadura , especially the northern part, is stunningly beautiful.
Saturday 18 October – We go on a short visit to Madrid and Toledo. We actually go to buy a replacement car for Rita, so travel up on the train, take in the sights of the stunning city that is Madrid, buy the car, a Peugeot 207 CC, and drive back home spending a night in beautiful Toledo.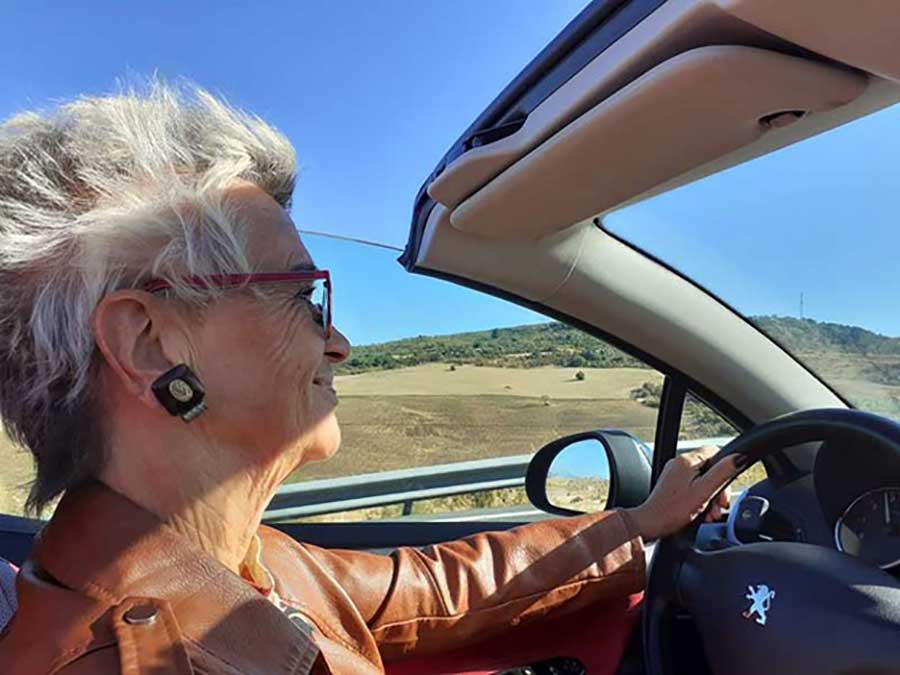 Rita likes her "new" car
Saturday 23 October – My daughter Amy, son-in-law Carlo and grandsons Felix and Jude visit us for a short break. I've only seen Jude in the flesh once, shortly after his birth a month or so before Covid-19 hit the world with such force. We pack a load in and have a great time. A highlight was a visit to Secret Paradise near Montejaque.
Rita, Paul, Jude, Amy, Carlo and Felix at Secret Paradise
Thursday 28 October – We head off to Germany for our postponed Familientreffen, our biennial family get-together. This has been postponed twice because of the pandemic, but this time we manage it. This is Rita's first visit to Germany since she was there earlier in the year. The circumstances are totally different and we enjoy our time spent with her extended family.
***
Monday 8 November – Back home in Spain we get to enjoy a series of cultural events during November and December. These include three different flamenco espectáculos, two new plays and a night of Hollywood film music played and sung live. The last outing was an evening of live medieval music played on medieval instruments in the beautiful surroundings of the Palacio de Mondragón in Ronda.
I win two tickets for the Christmas Lottery (El Gordo) in a raffle at a local bar. Both tickets win me 20€ in the Lotería de Navidad draw on 22 December, so 40€ in all.
Friday 24 December – We enjoy our German Christmas. According to tradition, in Germany Christmas Eve is when the main meal is eaten and the presents are opened.
Saturday 25 December – We have our Christmas lunch at Restaurante La Cascada with our friends, hosts Ian and Elaine Love. Unusually the meal is paella and hog roast, delicious, with music by the fantastic Marcus Myers.
Sunday 26 December – Boxing Day. I prepare a typical English Christmas turkey roast with all the trimmings.
Sunday 27 December – Our friends Mike and Chris complete on a house purchase today, ie they go to the notary, hand over the cash and get the keys. We invite them and their daughter Helena, who is visiting her mum and dad, around for a meal to celebrate.
Friday 31 December – New Year's party at Cortijo Perla Blanca, just over the back fence. Julian and Jody Marshall and their children, Ben and Ellie, host this event for family and friends in order to round off 2021, one of the strangest years any of us can ever remember.
***
In our case the year metamorphosed from our Annus Horribilis into our Annus Mirabilis. Let's hope things get even better for everybody in 2022!
! FELIZ AÑO NUEVO !
Editor's note:
Below are links to other articles which may be of interest to readers: