Paul Whitelock entered the eighth decade of his life on Tuesday this week. His wife, the "Lovely Rita" was well enough for them to go on holiday after a torrid year battling the Coronavirus. They stayed within the province, although they could have gone anywhere in Spain. Here is Paul's diary of the week.
Although we could have gone anywhere in Spain, we didn't know, when we booked, that we would be able to leave the province. So we chose to remain within Málaga and go to Frigiliana, near Nerja, in the Axarquía. We were not disappointed.
What a stunning place! Prettier than Montejaque, and that's saying something!  We rented a house in the casco antiguo, Casa Morango, a former ice cream parlour, for four nights.
It was my birthday on Tuesday, 18 May which was the excuse we needed to escape Ronda for a few days and the bad memories of Covid-19 which have ruined 2021 for us up to now.
The owner of our casa rural gave us 4 nights for the price of 3. Tuesday night's accommodation was my birthday present from Conchi. We'd never even met up to that point, although we have done subsequently when we had drinks and tapas later in the week.
Tuesday
We enjoyed breakfast on the terraza of the Parador de Nerja, overlooking Burriana Beach and the blue Mediterranean beyond.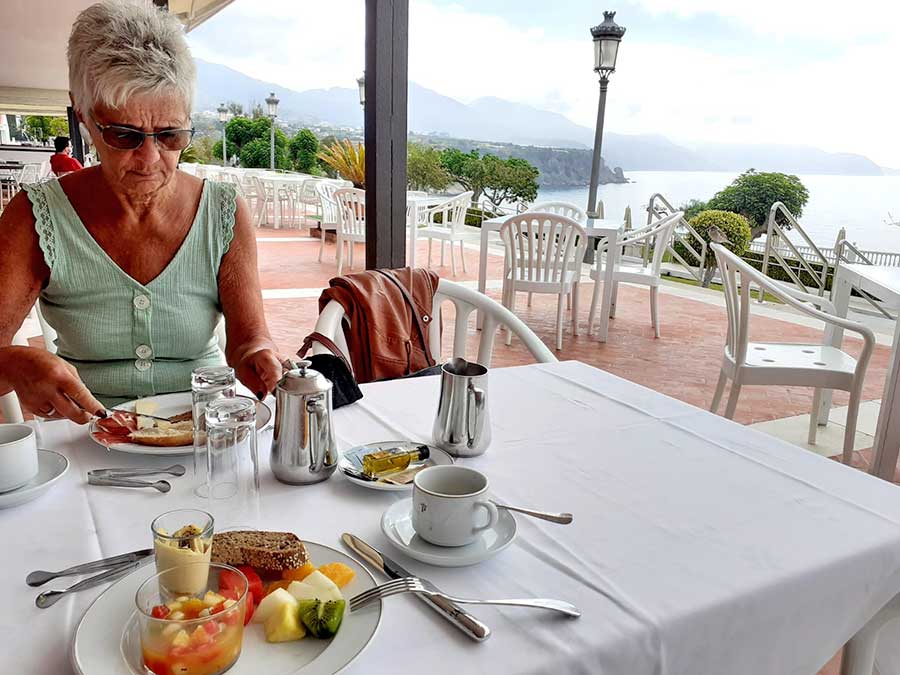 We sat on the Balcón de Europa for a while, watching people de paseo.
We did a bit of light souvenir shopping before heading back to Frigiliana for a healthy salad lunch.
That evening I had my first ever haircut in a Spanish barber's (Rita normally cuts it!)
Wednesday
We ended up in Torrox-Costa by accident and loved it.
We had breakfast and copious cups of coffee for a couple of hours right by the beach before going for a stroll round the town.
We came across a British-run charity shop where I bought quite a few bargains.
We ate lunch back at the beach in Restaurante La Blanca Paloma. We had a huge platter of shellfish to share. Expensive, but well worth it.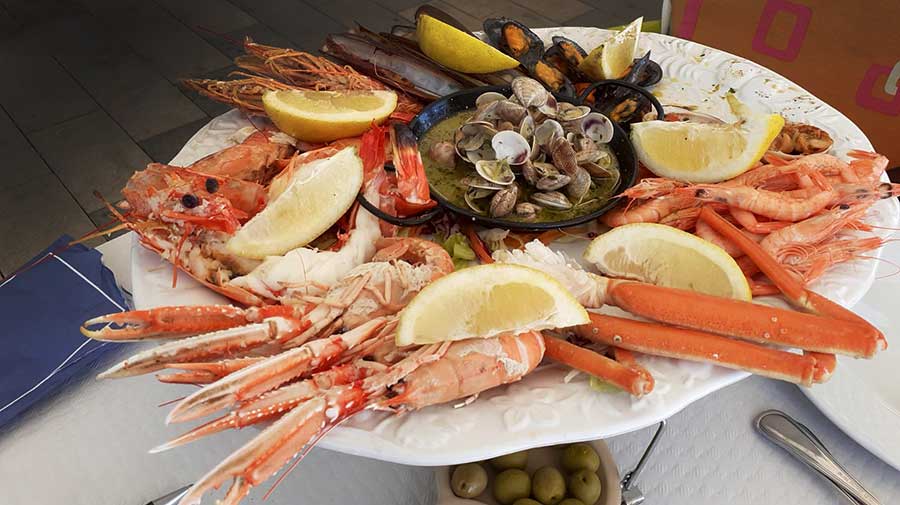 Back in Frigiliana we spent the evening eating tapas on our roof terrace until the sun finally set behind the mountains.
Thursday
We went early to the zoco (market) in Frigiliana, before getting breakfast en route to Torrox-Costa again. We had an appointment to view a front-line studio apartment, which is for sale at a very interesting price. Tiny, but frontline. But way too dear at 87,000 euros.
At 3 pm we had my official birthday lunch at Restaurante El Sacristán in Frigiliana, where they do a mean steak au poivre (English style). We both had that. Our steaks were prepared to perfection and at 22 euros well-priced.

Friday
We drove into the hills above Frigiliana to the lost village of El Acebuchal. After a delicious, if expensive at over 22€, breakfast, we went back to Torrox-Costa and viewed three further properties.
At one, totally unplanned – we just bumped into this random Italian guy Giuseppe on the street and the next thing we knew we were in his car on the way to view a huge apartment, 100 metres from the beach on a large estate with a massive pool.
His wife Maria, also Italian insisted we share lunch with them. Pasta a la carbonara accompanied by a fine Valpolicella. The first time anyone's ever offered me a meal during a house viewing!
This place was big, by the way. It needs smartening up, but it would be a good buy for someone who has 150,000 lying around doing nothing! ¡Ójala!
We paid a quick visit to Leroy Merlin near Málaga Airport for things we cannot get up in the mountains.
Then on to a Covid Vaccination Centre in Ronda for our appointment to get our second Covid jab (Pfizer). We are now the proud possessors of a digital certificate on our mobile phones, which means we should be able to travel without needing PCR tests nor having to quarantine.
Epilogue
After unpacking the car we went for a quick, late, but delicious dinner to one of our favourite local restaurants, La Cascada at Hotel Molino del Puente.
Our impromptu dinner at Ian and Elaine's rounded off a delightful birthday week.